Hair volume; thickness and fullness vary from person to person due to genetics, environmental factors, hair routine, heat, chemicals and so on.
Heeyyah mane embracers, how're y'all holding up? Thank you for stopping by and welcome to my natural hair blog.
Feel like your hair has been the same length forever, I've an Ebook that will help you grow your hair healthier, longer and thicker. Grab your copy here… Also, check out all the Ebooks,guides and journals that will go a long way in your hair care journey here.
Hair thickness is defined by the thickness of hair strands/diameter of hair while hair density is the number of strands on one's head and both are used to define volume/fullness of hair, I hope that makes sense. Let's get down on it.
I bet ain't the only one chasing volume, my dream is to have long and voluminous hair someday and be like, "sorry honey I can't hear you over the volume of my hair" and if that's your dream too, here are a few tips that have worked for me.
Table of Contents
How to Increase 4C Volume
castor oil scalp massages.
Castor oil is known to stimulate growth and is ideal for scalp massages. I religiously scalp massage at least twice a week and yes, it's been working great. Have shared this tip with some of my friends and cousins and they have noticed change in their hair volume. And did you know castor oil scalp massages can regrow your edges? Yes, try it out.
Excessive brushing.
I don't brush my hair EVER, excessive brushing thins your hair and you don't wanna lose the volume you got. I know you wanna know why I don't brush my hair. First, I don't like causing tension on my hair.
Second, I realized I can style my hair without brushing and third, I can't lose my volume and length to thinning and breakage.
Also read: Experiencing severe Hair breakage? 12 ways to stop it.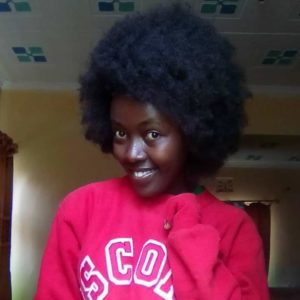 Aloe Vera.
I have read in so many places about aloe Vera's growth magic, like the grow your hair in a week using aloe Vera or rice water kind of magic. Well, haven't experienced that magic yet but had a season in my hair journey where I used DIY aloe Vera juice as a detangler, leave-in and deep conditioner and I noticed very little breakage on my wash day and more volume and length. Using aloe Vera juice helped retain more length and I so much loved it.
Hair routine/Regimen.
For lush, voluminous and long mane, you will need a healthy hair routine and religiously stick to it. Deep condition to avoid dry brittle hair and don't skip protein treatments, wear protective styles and let your hair breath in between the protective styles and so on. Get a regimen that works best for your hair.
Also read: Healthy & Simple 4C Natural Hair Routine
Avocados/bananas deep conditioner.
My hair loves avocados so so much, i use avocados a my deep conditioner once or twice a month. I read that they contain fats that aid in increasing thickness and this worked for my hair.
I had a few months I used avocado, bananas & honey as my deep conditioner and I noticed an increase in thickness and length as well. Bananas give my hair really defined and bouncy curls, added it here cause it was part of my deep conditioner.
I wanna know what has worked for you, your bet on tips to increase volume, both thickness and density.