Do you prep your hair for protective style or you just wake up, install and rock that protective style?
Hello AfroQueens, hope your hair is growing and skin glowing. Welcome to my blog and be sure to keep it here for everything hair care. To my loyal ones & day ones welcome back. Have you checked out our payhip store yet? We got journals and hair care guides for y'all.
Table of Contents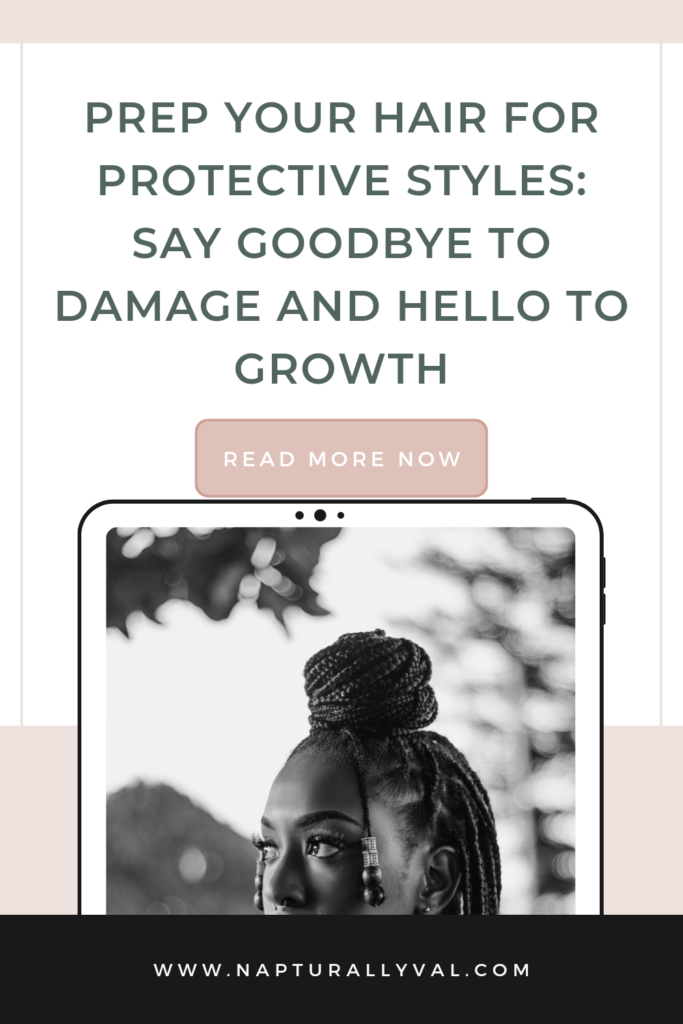 Feel like your hair has been the same length forever, I've an Ebook that will help you grow your hair healthier, longer and thicker. Grab your copy here… Also, check out all the Ebooks,guides and journals that will go a long way in your hair care journey here.
You don't wake up at midday days after your wash day and wear a protective style to last you weeks to a month. Just like you don't watch a series all night and wake up to take a chemistry test, you have to prepare for it. Preparing for a protective style is essential and it's easy as detangle, properly cleanse, deep condition, moisturize then wear protective style.
"Disclosure: Some of the links below are affiliate links. This means that, at zero cost to you, I will earn an affiliate commission if you click through the link and finalize a purchase."
How to prep for Protective Style
Cleansing/ Wash.
Properly detangle to get rid of all tangles and knots. Properly wash your hair, paying attention to your scalp. Massage the scalp to break down the dirt and product build up then thoroughly rinse. You ought to start off with a clean scalp, you can't afford to have an itchy scalp days after installing your protective style. Head patting never looked good on anyone and it's so uncomfortable.
Deep condition
Deep conditioning adds the good & essential nutrients, restores moisture, repairs damaged hair & strengthens your hair. If your hair feels weak or is damaged, use a protein treatment/deep conditioner then follow up with a moisturizing deep conditioner.
Moisturize
ALWAYS moisturize your hair after rinsing off the conditioner. Don't let your hair air dry before moisturizing. Working on dry hair increases breakage since dry hair is prone to breakage.
Dry and stretch
Dry and stretch with minimal heat to avoid hair damage and/or use a heat protectant and if you don't like heat like me air dry and stretch using braids, twists, African threading, cornrows, buns, hair bands and bantu knots.
Stretching 4C Natural Hair; Flat twists Vs Braids.
Always wear protective style on stretched hair because it gives more length and volume especially if twists are your to go to protective style. With stretched hair you'll notice minimal tangles too.
Lastly, if you haven't had a trim in a long time this would be the right time to do so, let the split ends go. After you are done with the above steps, you can safely install your protective style
Do you prep your hair? Love my content or find it useful and wanna thank me? Well, purchase my products here.