Hello mane embracers, I hope your crowns are flourishing and your skin glowing. Thank you for stopping by and welcome to my natural hair blog.
How you care for your hair determines how long and healthy your hair will be. The right hair care practices and products are essential for growing your natural hair & how you wash and condition your hair tops the list.
Feel like your hair has been the same length forever, I've an Ebook that will help you grow your hair healthier, longer and thicker. Grab your copy here… Also, check out all the Ebooks,guides and journals that will go a long way in your hair care journey here.
Hello AfroQueens, hope your hair is growing and skin glowing. Welcome to my blog and be sure to keep it here for everything hair care. To my loyal ones & day ones welcome back.
"Disclosure: Some of the links below are affiliate links. This means that, at zero cost to you, I will earn an affiliate commission if you click through the link and finalize a purchase."
Dirt, dust and products build up clog the scalp pores suffocating the scalp causing itchiness. Cleansing the scalp creates the perfect environment for the scalp. Conditioning on the other hand, strengthens & moisturizes the hair. So, you clean the scalp & condition the hair.
Let's get down to how to properly wash & condition your hair or rather how your wash should look like.
Table of Contents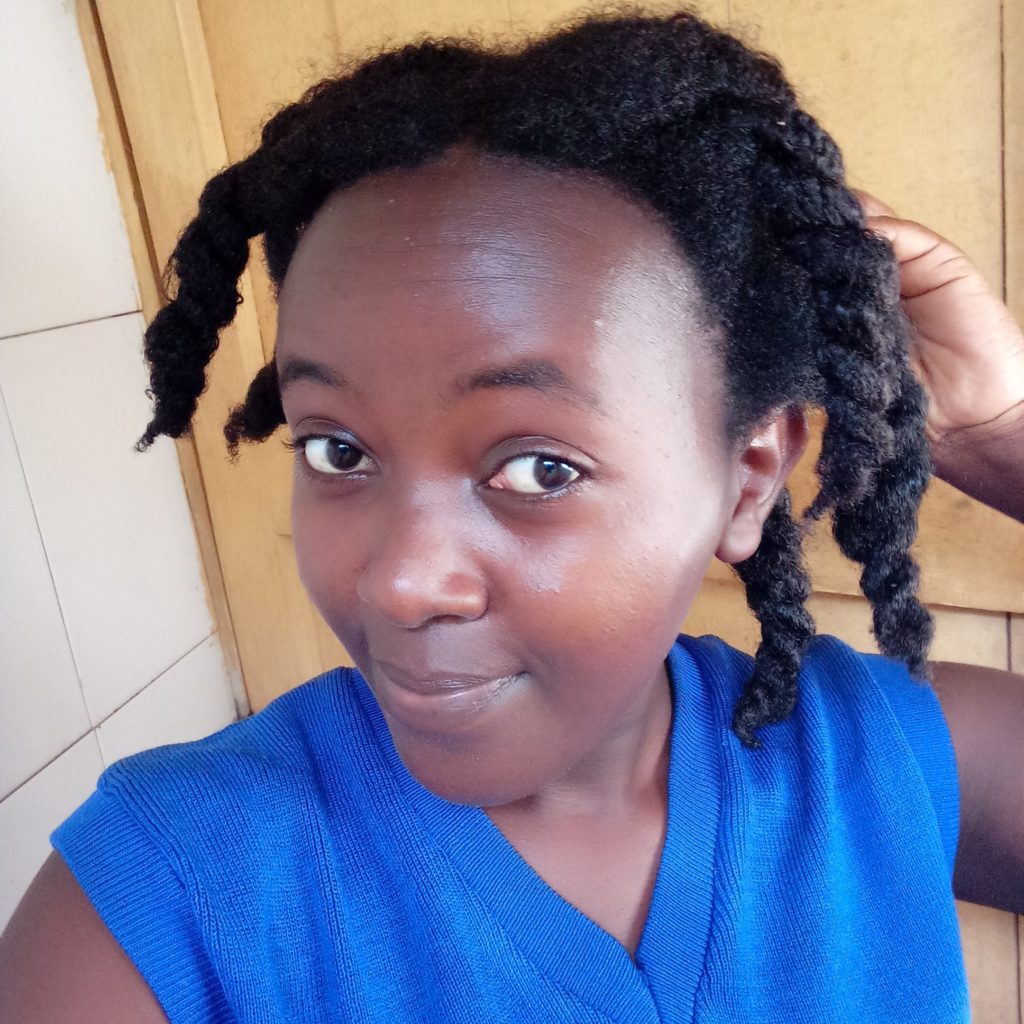 How to wash and condition natural hair.
Section Protective styling. hair.
The very first wash day step other than taking pictures of your Afro is sectioning the hair. Why section the hair? It is easier to work with one section at a time other than the whole head & if your hair tends to tangle a lot, this tip is a life saver. The number of sections depends on your volume and length.
Also read: Why sectioning Natural Hair is important.
Pre-poo & Detangle.
Pre-poo is the short form of pre-shampoo that's the treatment done before shampooing to minimize the stripping effect of shampoo. Learn more about pre-poo here. Use a pre-poo product that is moisturizing and will give you a good slip for detangling(getting rid of tangles.) Catch up on detangling tips here.
You can detangle as you pre-poo or do the pre-poo treatment then detangle.
Also read: 24 Best Detanglers for Tangled 4C Natural Hair
Cleansing.
This is where the shampoo comes in. If possible avoid sulphate shampoo because they may dry out the hair and discolor your hair(have experienced these before.) Use a sulphate free shampoo or black soap.
When cleansing, first wet your hair until it's soaking wet to properly lather. Apply the shampoo on the scalp and massage to get rid of all the dirt and build up then rinse with warm water.
Deep conditioning.
Deep conditioners moisturize (moisturizing deep conditioners), repair & strengthen(protein deep conditioners) your hair. Read more about these conditioners here.
Apply deep conditioners on damp hair starting from the ends to roots as you detangle then wear your shower cap/thermal cap for the nutrients to infuse the strands or warm up the deep conditioner then apply. Use a moisturizing deep conditioner every time you shampoo & protein treatment monthly or after 6-8 weeks depending on how damaged your hair feels. Follow up with a moisturizing deep conditioner after using a protein deep conditioner or purchase a 2in1 deep conditioner.
Moisturizing & Sealing.
This is the last wash day step. Don't rinse off the conditioners & let your air dry, add some more moisture and the seal. To moisturize dry your hair by squeezing out the water until your hair is damp, apply your favorite moisturizer or leave-in conditioner then seal with oils/butter/creams and let your hair air dry.
You can braid your hair or twist it to stretch, you don't want your hair drying in a shrunken state. Type 4 hair shrinks a lot , strands hug each other & end up tangling. So, stretch it before air drying. Know more about how to moisturize your hair here.
v
Those are the essential wash day steps that you shouldn't skip if you wanna grow healthy and long hair. Your wash day is as easy or complicated as you want it.
Lately, I've been washing my hair in twists and will fill you in about it in the next post. Catch up on all wash day related posts here.